"Maintenance Management Software Buyer's Guide"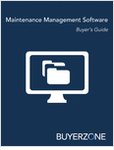 With everything you manage - from facilities to equipment to vehicles - you've got your hands full. Keeping track of the maintenance these assets require is an ongoing task, one that can quickly become overwhelming and a paperwork nightmare.
Companies of all size and across many industries are turning to MMS to organize a wide range of equipment and facility maintenance needs in one simple format. Computerized Maintenance Management Systems (CMMS) can help to cut down on piles of paperwork from maintenance orders and repair requests. Maintenance management software can be used in countless settings - including but not limited to industrial plants, warehouses, government buildings, educational facilities, hotels, restaurants, and hospitals.
No matter your industry, this BuyerZone Maintenance Management Software Buyer's Guide will help you decide what to look for in an MMS system, how to compare your options, what you can expect to pay, and how to choose the right vendor. Offered Free by: BuyerZone, Inc.
Other medical practice managment softwares that are popular include:
Benchmark System: For physicians looking for medical practice management software, Benchmark Clinical is a great solution. Both ONC-ATCB and CCHIT certified, it features specialty-specific workflows and resources.
Meditouch PM: The functionality in MediTouch PM is a great asset to practices of all sizes. Includes features such as 72-hour pre-screening for patient eligibility and a vendor-managed clearing house. The solution is accessible via any browser.
Kareo: The practice management solution from Kareo is a Web-based system with features such as patient record management, scheduling, eligibility verification, task management, medical billing and more.
Waiting Room Solutions: Delivering a true EHR on a Web-based architecture, WRS Health is a Meaningful Use certified EMR software features specific templates, functionality and workflows developed for managing small and medium practices.
Medios EHR: Medios Practice Management is a scalable solution, great for practices of different sizes and medical specialties. An online system, Medios is kept current & up-to-date through inclusive upgrades.
Last Updated on Tuesday, 08 April 2014 13:45