Nutritional Outlook The manufacturer's resource for dietary supplements and healthy foods and beverages....

Oracle Magazine Contains technology strategy articles, sample code, tips, Oracle and partner news, how to articles for developers and DBAs, and more....

Nature Methods Provides techniques for life scientists and chemists....

Chemical Engineering Serves chemical engineering professionals in the chemical process industry including manufacturing, engineering, government, academia,...

Renewable Energy Focus Reports on various major topical developments in renewable energy from around the world....

Target Marketing Is packed with the latest know-how for the "go-getters" in the world of marketing....

CFO Magazine Digital Edition Combines the print format you know and love with the convenient features of the web you've come to rely on....

Global Finance Has been providing monthly news and analysis since 1987 about companies and financial institutions that do business around the world....

Waste Management World Is the leading international publication for the global waste management industry....

Design News Is for design engineers in the original equipment manufacturing (OEM) market....

Laser Focus World Optics, electro-optics and optoelectronics. Covers the full spectrum of electro-optics applications....

Reinforced Plastics Is celebrating over 50 years of service to the composites industry worldwide....

Profit Magazine Is distributed to more than 110,000 executives, managers, and IT strategists who trust Oracle solutions to increase productivity, trim...

Processing Is the only product publication serving all related process industries....

Hospitals & Health Networks Provides hospital and health care business executives with direction, perspective and information essential to their life's work....

InformationWeek India Is the only magazine you'll need to stay on top of the latest developments in information technology. In-depth editorial focuses on the...
There are many ways how you may get free magazines by post. The best way to receive free magazines by mail is to source for websites similar to this site where you may subscribe to dozens of free magazines. It is easy to get your subscription approved. As long as you provide a valid address and the magazines that you requested for is within the approved geographical location, there should not be any problem to get your subscriptions approved.
There are various benefits to subscribe to receive free magazines. If you are running a business and have a waiting room for visitors who are waiting to see you, displaying plenty of magazines in the waiting room is a good way to keep them occupied. However, many business made the mistakes of keeping only outdated magazines in the room. Displaying outdated magazines give your visitors the bad impression that you are outdated and do not care. On the other hand, displaying the latest magazines always give your visitors the impression that they are dealing with business owners of repute and is always up-to-date with the latest news and development.
It is not always necessary to display magazines that is directly related to your industry. If you are in business consultancy busines, it is perfectly alright to include some free science magazines into your mix. In fact, many visitors would like to have a variety of magazines for them to browse through while waiting to see you.
Getting free magazines by post, especially those that is related to your industry is also good for your employee. Reading is a good way to enhance and improve on your employee's knowledge, and it does not cost anything to subscribe to more magazines through this site. Compared to reading a book, each of the articles published in a magazines may be completed in one reading and you do not need to start from any articles in particular.
Reading magazines is also a great way to kill time when travelling. Magazines may be carried around easily as they can be folded or stacked away in your briefcase. You may conveniently read them while waiting for the train or at the airport. If you have a driver, you may read it when you are on transit from one location to the next.
Regardless of your interest, you may receive free publications that suit your needs. From computer magazines to health-related magazines to waste disposal, there are plenty of choices that suit your needs and your company's needs.
Last Updated on Monday, 24 June 2013 10:54
"Maintenance Management Software Buyer's Guide"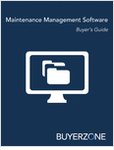 With everything you manage - from facilities to equipment to vehicles - you've got your hands full. Keeping track of the maintenance these assets require is an ongoing task, one that can quickly become overwhelming and a paperwork nightmare.
Companies of all size and across many industries are turning to MMS to organize a wide range of equipment and facility maintenance needs in one simple format. Computerized Maintenance Management Systems (CMMS) can help to cut down on piles of paperwork from maintenance orders and repair requests. Maintenance management software can be used in countless settings - including but not limited to industrial plants, warehouses, government buildings, educational facilities, hotels, restaurants, and hospitals.
No matter your industry, this BuyerZone Maintenance Management Software Buyer's Guide will help you decide what to look for in an MMS system, how to compare your options, what you can expect to pay, and how to choose the right vendor. Offered Free by: BuyerZone, Inc.
Other medical practice managment softwares that are popular include:
Benchmark System: For physicians looking for medical practice management software, Benchmark Clinical is a great solution. Both ONC-ATCB and CCHIT certified, it features specialty-specific workflows and resources.
Meditouch PM: The functionality in MediTouch PM is a great asset to practices of all sizes. Includes features such as 72-hour pre-screening for patient eligibility and a vendor-managed clearing house. The solution is accessible via any browser.
Kareo: The practice management solution from Kareo is a Web-based system with features such as patient record management, scheduling, eligibility verification, task management, medical billing and more.
Waiting Room Solutions: Delivering a true EHR on a Web-based architecture, WRS Health is a Meaningful Use certified EMR software features specific templates, functionality and workflows developed for managing small and medium practices.
Medios EHR: Medios Practice Management is a scalable solution, great for practices of different sizes and medical specialties. An online system, Medios is kept current & up-to-date through inclusive upgrades.
Last Updated on Tuesday, 08 April 2014 13:45